OPENABILITY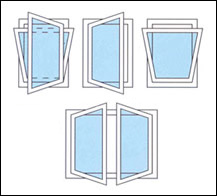 Windows are categorised based on openability as follows:
Non-openable window

Only the frame section is glazed.
Used in rooms where the windows can be washed from outside and ventilation is provided by other means.

Non-openable sash window

Window with a glazed sash section.
No fittings.

Turn (side-hung) window

Window that opens at the left or right side.

Tilt window

Window that opens at the top.

Tilt & turn window

Changing the position of the handle enables the window to be opened at the side or at the top. Depending on the dimensions, tilt & turn windows can be provided with micro-ventilation.

Window with combined openability or partially openable/non-openable window.
Windows can also be fitted with window stops – contact one of our sales offices for details (see more here).
FITTINGS
We use two fitting systems:
SCHÜCO VarioTec fibre-metal fittings from Germany;
MACO Multi-Matic metal fittings from Austria.